Equine Assisted Learning is an experiential approach to teaching life skills using horses. It is a method that focuses on the experiential process of learning rather than the mere transmission of information. Participants do not require any horse knowledge or experience. During an EAL session, participants do not ride the horses, but rather work with them in a partnership on the ground in a variety of activities. "Experiential learning has recently been termed 'the natural way of learning' and defined as the process by which the experience of the learner is reflected upon from which new insights emerge" (Gayle Cartier, Master course conductor of The Cartier Academy of Equine Assisted Learning).
Why Use Horses?
Horses are herd animals. They depend greatly on the body language and information relayed to them through their herd members. Because of this, the herd and its structure are of great importance to the well-being and survival of the horse. Horses live "in the moment" and respond immediately to every signal, movement and behaviour both their equine counterparts, predators and humans portray. In an EAL session, participants learn what it means to become good leaders, communicators and listeners in order to earn trust and respect from their horse. That learning can then be carried over into our "human" world where we translate it into action when communicating and listening to our families, friends, colleagues, students, etc.
What We Do?
Learn By Equine offers a range of learning activities for everyone in a safe, professional and experienced environment. Learn By Equine EAL centre welcomes clients aged 8 to 102! We offer a variety of unique growth and learning experiences through activities, obstacle courses and tasks completed in pairs or larger groups. Each exercise has been carefully and thoughtfully developed through the Cartier Academy of Equine Assisted Learning program to draw out particular skills and thought processes in its participants. Everyone can benefit from the programs at Learn By Equine!
Who Will Benefit?
The amazing thing about Equine Assisted Learning is that everyone can benefit! Families, parents, grandparents, children (8 and up!), teachers, colleagues (office groups/team building days), employees, professionals, individuals with special needs and the list goes on, there are no limitations on who EAL can benefit!

Interested in opening up the lines of communication within your family or your relationship?

Are a parent or teacher of a child, student or classroom that would benefit from building teamwork, leadership, listening and communication skills?

Do you want to gain insight into your own strengths?

Looking for something fun, different and interactive to do with a friend or partner on a night out?

Try EAL for something unique and unforgettable!
Meet our Facilitator!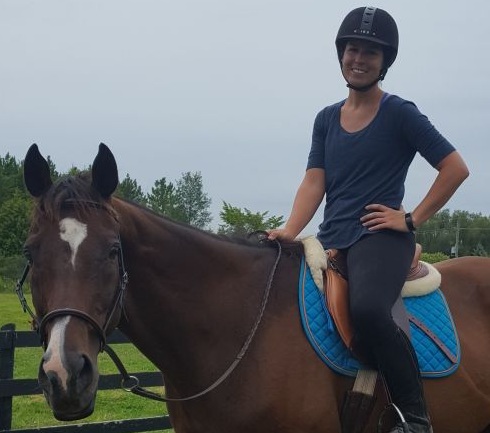 Danielle has owned and operated Learn By Equine with her family for 13 years. Danielle is an Ontario Certified Teacher with Qualifications in Special Education. She has decided to turn her focus to Equine Assisted Learning in order to bring her passion for horses together with her passion for teaching. Danielle has been trained through the world renowned Cartier Academy of Equine Assisted Learning Certification Program at Dreamwinds Farm. She is a certified Equine Assisted Learning Facilitator.
Our Horses


Sulli is 17 years old and an ex-racehorse. He is crippled from a racing injury and unable to be ridden, but loves playing with his friends in the pasture and hanging out with his humans.

Scarlett is the only mare on the farm and acts like the queen bee! She is 20 years old and retired from her showjumping career. She loves attention and being fussed over!

Muffin is an ex-racehorse and is now 22 years old. He acts like a giant puppy dog and loves attention.

Sam is 25 years old and the smallest horse on the farm. He has taught many children and adults how to ride his entire life and is now retired as an EAL horse. He is mostly deaf, but still loves to teach and be involved.